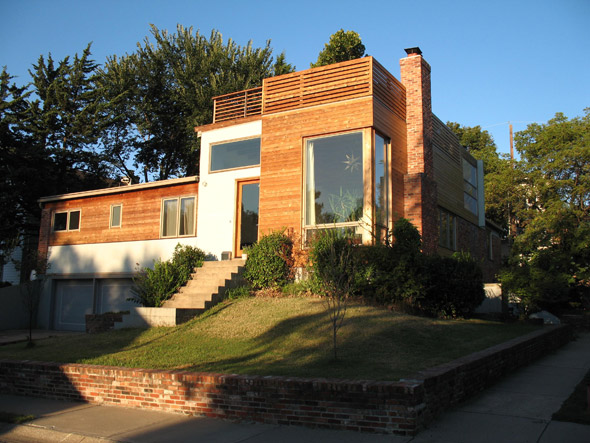 4800 Mercier St. | Kansas City, MO | 64112
Architect: Davison Architecture + Urban Planning
Built 2005-2007; 3-bedroom, 4-bath, 2200 square feet
A major residential renovation project, Dominique Davison and Robert Riccardi (both architects) took advantage of the foundation and relatively new mechanical systems of an existing 1960's raised ranch while creating an essentially new home using environmentally sensitive materials and site planning strategies. Recipient of the 2009 KCHG Best Modern Design Award, this home has been featured in a number of local publications as an example of innovative adaptive reuse and infill residential design.
Previously a duplex, the roof was replaced and the structure transformed into a modern, single family, 3 bedroom, 4 bath home. A second floor loft was added along with a roof deck that accesses a small green roof.
Green attributes include FSC certified siding and decking, new insulated, low-e windows, rapidly renewable materials (bamboo cabinetry), rain barrels, reclaimed lumber, low-VOC paint, super insulated walls and ceilings, natural day-lighting, and a stairwell that acts as a heat chimney.