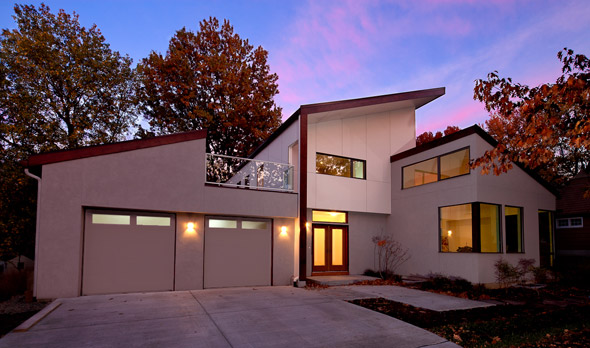 9219 Wenonga Rd. | Leawood, KS | 66206
Architect: Davison Architecture + Urban Planning
Built 2011; 4-bedroom, 3.5-bath, 2520 square feet + 390 square foot solarium
This passive solar home is slated to be certified LEED platinum and recently received a 5+ Energy Star rating as well as a Home Energy Rating System score of 36. During the deconstruction of the existing home, reusable materials were collected and documented. Through the use of super insulated SIP wall and roofing systems (R40 and R60) and passive solar design, DA+UD worked to achieve a highly energy efficient home. The main interior spaces flow into a south facing solarium, spreading natural light throughout the home.
Many of the components of the previous house were saved for reuse and recycling. Existing concrete roof tiles were removed and palletized for reuse. Various items were salvaged, including doors, windows, light fixtures and ceiling fans, casework, fixtures and faucets, appliances, flooring and trim. 120 cubic yards of lumber (lengths over 6' with nails removed) were taken off site for reuse and 10 cubic yards of metal were recycled. The foundation walls, brick chimney and basement concrete slab were crushed and will be used as backfill and drainage material on site (86 cubic yards). Only 30 cubic yards of trash were sent to the landfill.
The position of the building and placement of particular design elements were important in creating the new passive solar home. Windows, walls and floors collect, store, and distribute the sun's heat in the winter and reflect solar heat in the summer while maximizing the use of sunlight for interior illumination. These open and light spaces also connect the occupant visually to the outdoors while reducing the need for artificial lighting.
The exterior walls and roof were constructed out of SIPS (structural insulated panel system) from Thermocore Missouri out of Jefferson City. The custom manufacturing process allows for the complete pre-configuration of panels before they are insulated. This allows panels to be pre-formed to exact custom shapes and sizes eliminating material waste at the job site (as well as the factory). Polyurethane insulation is sandwiched between formaldehyde free OSB, creating R values up to 40 to help significantly reduce energy costs of the home. Open web trusses on each level were designed and prefabricated specifically for the individual project and reduced lumber waste on site.
The new home has a ground source heat pump which relies on the stable, even heat of the earth to provide heating, air conditioning and hot water. These underground systems are efficient, comfortable and use about 30% less energy than a standard heat pump and save about 50% of energy costs over standard furnace systems. A 4KW solar panel system is integrated into the concrete tile roof to offset energy costs as well. Highly energy efficient windows have a R6 rating. Rainwater is collected on site for irrigation of native plantings.
Various finish materials used in the project include low VOC finishes with recycled material and many are sourced within a 500 mile radius.