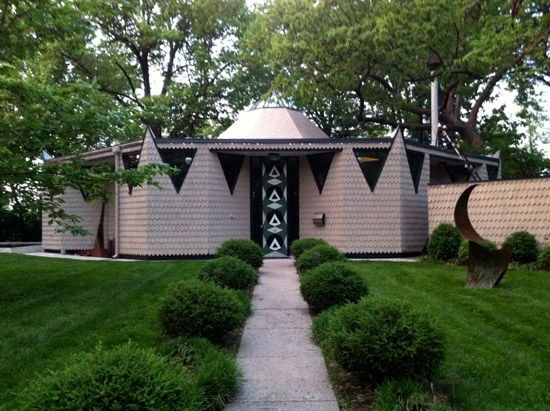 5305 Cherry Street | Kansas City, MO | 64110
Architect: Bruce Goff
Interiors By: Retro Inferno
Built 1967; 4-bedroom, 4-bath, 3000 square feet
This house was designed by Bruce Goff, a pioneer in organic architecture. Known as the Nicol House, the home features an octagonal floor plan with a central fire and water feature, as well as a suspended genuine Sputnik satellite.
The home is currently owned by Rod Parks, owner of Retro Inferno, one of the country's premier mid century modern furniture stores.  Rod has painstakingly stayed true to the origins of the design, both architecturally as well as with regard to the furnishings, finding many of the exact same furniture pieces that Mr. Goff originally specified for the house.  The house sits on a full acre lot of mature trees with the original reflecting pool in front and the original hexagonal shaped swimming pool in back.
All of Bruce Goff's homes were designed as one of a kind.  This house is one of the finest examples in existence today.